You can choose from a wide range of styles and colour to match your printed or embroidered design. Our team will provide visual proofs of your order for your approval. Once visual proofs are approved we will provide you with confirmed delivery date. If you have a specific delivery date we will work to make sure we meet it.
Pre Production Activity
If the style is provided by the customer we will produce sample according to customer style and request. Once its approved we will proceed with bulk production
If the style is selected by customer from our collection then we will recommend suitable fabric , craftwork according to customer target price and quantity.
Raw Material Procurement
After the order confirmation we source raw material from well known and trusted vendors . Fabric is also checked in our stores before issuing it for cutting.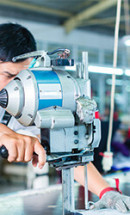 Cutting
As per the sizes Patterns are made on latest CAD systems. A perfect pattern means flawless cutting and perfect fit. Cutting is done by most advanced cutting machines to achieve precision.
Sewing
We have high power sewing machines operated by skilled workforce. We have a strict inline quality control to ensure each garment is stitched defect free.
Finishing & Packing
All garments go through the process of thread cutting, checking and pressing before finally getting into polybags.
Printing
Based on the requirement of the buyer and selection of fabric various types of printing are done. Find below most common types of printing used. All printing is done on latest multi head machines to ensure perfect quality and finish.
Screen Print
Screen printing is the oldest and still the most preferred methods. You can count on this method for all your needs including placing text and graphic design. In this method the ink is spread all over the nylon mesh screen using squeegee , then the screen is taken off the design and finally the design is dried in the curing machine. This is best suited for large quantities with 6 colours or less per style.
Sublimation Print
This printing method is possible only for 100% polyster garments. This is a process of printing onto a special sheet of paper and then transferring that image onto fabric. The ink is heated till it disintegrates into the fabric. If the style has seam to seam all over printing then this method is prefered. It has got excellent vibrancy of colours. Suitable for bulk orders as well as small quantities.
DTG ( Direct To Garment ) Print
Direct to garment printing is relatively new trechnique only viable for big quantities. DTG printer is required for this print. DTG printing is a process of printing on textiles using specialised ink jet technology. This method is best suited for White col garments. Though the printing cost is cheap but investment cost is high therefore best for large volumes.
Transfer Sticker Print
Transfer Sticker can be printed in any shape or quantity . In this process the transfer stickers are printed on high quality vinyl. A heat press is then used to transfer each vinyl colour of design onto the garment . Transfer stickers are economical in large scale production only .Only drawback in this print is that the edges may start fraying after few washes .
All our logo embroideries are done on advanced 20 head embroidery machines. The output is superb and faster with high quality finish.
Corporate T-shirts

College Event T-shirts

Marathon T-shirts

Dealer Meet T-shirts

Award Ceremonies T-shirts

Social Campaign T-shirts
Promotional Caps

Customized Sports Wear

Customized Gym T-shirts

Customized Jackets & Hoodies

Windcheaters & Sweatshirts

Customized Polo T-shirts